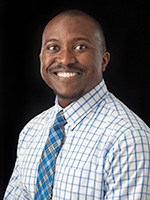 Director of Wellness and Prevention Services
Miles Annas Student Services Building (1st Floor)
What I do at Appalachian State:
I oversee activities regarding health promotion and behavior modification among Appalachian students.
Education:
Undergraduate Institution: High Point University
Undergraduate Major: Athletic Training/Sports Medicine
Master's Institution: University of Kentucky
Master's Major: Public Health (Health Behavior)
Doctoral Institution: University of Kentucky
Doctoral Field of Study: Public Health (Health Services Management)
Areas of Research Interest: Injury Prevention; Adolescent Health and Wellness; Public Health Services and Systems
Reflections on being a First Generation Student:
As a first generation college student I entered my undergraduate years with equal portions of excitement and anxiety. Despite the fact that neither of my parents had attended college, I grew up in a home that valued education. My parents, both born into families of share croppers in Eastern North Carolina, deeply regarded the opportunities that might be made available to their children as a result of obtaining a college degree. Thus, I dedicated myself to achieving high academic marks in high school while also serving as a student leader and varsity athlete for three years. In many ways I did everything "right" in order to be prepared for college.
However, this was only partly true and upon my transition to college I soon learned the gravity of my particular situation. Many things were slightly or dramatically different for me as I navigated the academic structure and social structure of college. One memory that I recall with ease, was an attempt to talk to my parents about a math course I was enrolled during my first year. As I explained to my parents the difficulty of the course and the struggles I was enduring, my father responded, "...son, I can't tell you anything about college and those classes. I'm well versed in working in fields and being a soldier in the military, but I don't know a thing about the stuff you're talking about. But son, you do whatever you need to do to stay there (in college); work hard and get help from somebody to help you in this class." This interaction with my father was critical in helping me realize that while my parents were advocates for a college education and beyond supportive of me being enrolled, their ability to assist with the work to stay enrolled was limited. This was in stark contrast to my roommate and classmates who routinely talked about making calls home to their mothers, fathers, or grandparents to get help with a course or brainstorm ideas about a project.
As if things were not daunting enough the financial ability to stay enrolled and complete a college degree became a recurring concern and focus of many conversations with my parents. In an attempt to offset the financial stress of being enrolled, I pursued several employment opportunities on campus. During the course of my enrollment I served as an academic tutor, resident assistant, and university student ambassador. After four years of "figuring it all out" I received my Bachelor's of Science and fulfilled a dream long held by my parents. This remains one of the moments I am most proud. In the acknowledgement section of my doctoral dissertation I wrote of myself and my achievements as being the dream deferred. I recognize that all I have accomplished has been the product of hard work, sacrifice, and support from others. Although my parents could not assist with calculus based physics, they provided immeasurable support and encouragement in a variety of other ways. While transitioning to college as a first year student I met six young men, five of which were first generation students like me. These individuals were my family during college and we remain connected and forever bonded by our experiences together and support of one another. I also reflect upon faculty and staff that took a genuine interest in me, my lived experience, and my professional desires. These university employees invested in me and helped me achieve what many might have thought impossible. College is a unique experience for everyone. Being a first generation college student definitely added additional layers of complexity for me. However, I and many others similar to me navigated those challenges successfully. My college experience was demanding, but it was also one of the most exhilarating times of my life. I met lifelong friends, discovered my passion for education and prevention-related work, and learned the impact a mentor or concerned university representative could have in the life of an emerging adult. For all of these reasons, I cherish my employment in a university setting. I respect and value the purpose of the university and its employees, and I strive to impact emerging adults and college attending students in meaningful ways. I will forever have the identity of a first generation college student. This identity has provided me an invaluable perspective and appreciation for success and failure. To current students enrolled at Appalachian State University that identify as first generation I encourage you with the following: be brave and persistent in your pursuits; and know that you are not alone.