Jennifer Coffey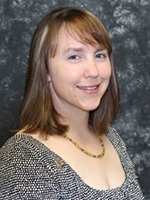 Program Director, Student Veterans Services
324 Plemmons Student Union
What I do at Appalachian State:
I am responsible for supporting Appalachian's Military Affiliated Students.
Education:
Undergraduate Institution: Appalachian State University
Undergraduate Major: Accounting
Master's Institution: Appalachian State University
Master's Major: Higher Education - Community College and University Leadership
Areas of Research Interest: Student Veteran Success, Underrepresented
Student Success, High Impact Educational Practices
Reflections on being a First Generation Student:
My experience as a first generation college student was rather uneventful. In that, I mean that I came to school to get my degree and that was it. I wasn't particularly interested in extracurricular activities or involvement with campus organizations. As a result, I feel like I missed out on a lot of opportunities that were available to me.
I had (have) supportive parents, though they didn't really understand the process, who encouraged (pushed) me to do well. Even though neither of my parents went to college, it was never a question for me. In fact, it was an expectation. I took Advanced Placement and Honors courses throughout high school, knowing they would help me get into college. We weren't sure how we were going to pay for it, but my parents insisted it would happen. Come to find out, there was this great thing called the FAFSA that made it possible for me (you will see the irony in this below). I was able to obtain enough grant money to pay for my tuition and fees. I got my entire four year degree with no debt! That was truly a blessing to my family.
As a Boone native, I was permitted to live at home during my freshman year rather than living in a dorm. I took full advantage of that opportunity. Living in a dorm was the LAST thing I wanted to do. In fact, being able to stay at home was one of the reasons I chose to stay in the area and attend Appalachian. I was accepted to Appalachian State, UNC–Charlotte, and UNC–Greensboro. As an only child, I did not want to live with other people (I hadn't had to share my space before and didn't want to start at 18) and, in all honesty, I was terrified of the thought. Additionally, dorm rooms and meal plans were (and still are) expensive. Living at home saved us a considerable amount of money, and helped us avoid debt.
Living at home also permitted me to focus on my studies and to avoid bad decisions that some students make. I didn't party or carry on like some young students. I was fully committed to getting my degree, and that's exactly what I did.
However, I feel that staying at home also disadvantaged me in many ways. I didn't make friends or connect with anyone on campus. I lived off campus, commuted in daily, and left as soon as I was done with class. I was very isolated and alone. Luckily, I had a network of friends and loved ones outside of Appalachian that offset the isolation on campus. Not participating in campus activities or making friends while in school made it difficult to take pride in being a Mountaineer. Buying spirit attire felt artificial to me. In fact, graduation was just another day to me. I probably wouldn't have participated in the ceremony if my parents hadn't insisted.
It wasn't until I got my first full time job that I realized that my degree was valuable. I had been working part-time at a local grocery store when I was offered a position in a local office-supply company. While talking to the owner of the business, I discovered he was interested in hiring me because of my degree. I didn't have experience working in the industry, and I certainly didn't have a working knowledge of the position for which I was interviewing. However, I got the job. I got it because the owner saw my potential. I was successful in my educational pursuits, and as a college graduate himself, he knew what it took for me to get that degree and he respected me for it. That was an eye-opening experience that changed my opinion of my accomplishments from then on.
Six years after graduation, I found myself looking for employment. My employer was restructuring and eliminating my job here in Boone. With an infant son, I was unable to commit to driving to Statesville every day just to keep my job. After an extensive and laborious search for a new job, I managed to land a job on campus in the Office of Student Financial Aid. I was terrified,. but hopeful. Unlike my first experience, when I was a student, I felt at home. Less than one year later, I was promoted to the position of Assistant Director and School Certifying Official for Veterans. Once again, my degree helped open doors that would have otherwise remained closed.
In 2012, after working for Appalachian for two years, I decided I wanted to get my Master's degree. I knew that higher education was my home, my niche, my passion. I also knew that I would have to get a degree beyond my BSBA in order to grow professionally in higher education. After four and a half years of part time enrollment, I will graduate with a Master of Arts in Higher Education with a concentration in Community College and University Leadership in December 2016.
The MA program has awakened in me a desire to help all students succeed - especially students who face adversity. Although my passion is supporting student Veterans on campus, I consider it a privilege to help ANY student be successful. I also believe that underrepresented populations are the future of higher education, and I consider it my responsibility to help them along the way. It is my desire to set a positive example and provide honest and intentional support.