Rwany Sibaja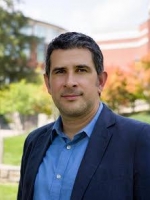 Assistant Professor of History
Hometown:
None. I moved around too much across the United States and to Costa Rica.
What I do at Appalachian State:
I am an Assistant Professor of History and Director of the History/Social Studies Education Program; I also serve as a member of Appalachian's Hispanic-Latino Faculty & Staff Association and as the faculty advisor for the Hispanic Student Association (HSA). I am also part of the informal Digital Humanities workgroup on campus.
Education:
Undergraduate Institution: Elon University
Undergraduate Major: BA History (with 9-12 Social Studies Licensure)
Graduate Institutions: University of North Carolina at Greensboro and George Mason University
Graduate Major: MA History; PhD History
Reflections on being a First Generation Student:
My success as a student, and now as a faculty member, is the product of a nurturing and supporting system of family members, friends, colleagues, and mentors. My parents are immigrants from Costa Rica, both of whom did not go to college. My mother, in fact, only finished elementary school. The U.S. offered them a place where their children could have a better future. Although they encouraged us to do our best in school, they often struggled to provide the type of help and guidance we needed at times. In particular, I was at a loss on how to go to college or how to succeed in AP and Honors classes. Unfortunately, my high school guidance department offered little help to students trying to make sense of the college application process. They had their hands full with the myriad of disciplinary issues at our school. I was lost. Growing up in low-income neighborhoods in California, Florida, and North Carolina, behaving well and doing your work almost guaranteed good grades. There seemed to be an assumption that if you were an "A" student you were smart enough to figure out how to apply and, if needed, find scholarship or financial aid resources. I knew, however, that to succeed in college I would need extra help, both financially and academically. The problem for me was how to get started.
I applied for the NC Teaching Fellows scholarship, which at the time was a full ride scholarship for those who wanted to pursue a career in public education in NC. This award would eliminate any financial stress for two parents who struggled each month to pay their bills. In terms of academic support, I felt that attending a large university like UNC or NC State would be a problem; I would be one student out of 200 and may not even connect with a professor during the critical freshman year. So I chose Elon College (now University) due to its faculty-to-student ratio and intimate campus feel.
What I did not understand at the time, nor through my graduate studies, is that for many first-generation students, especially those from underrepresented groups like Latinos, an imposter syndrome sinks in. You pretend to know what terms like "hegemony" mean, or how to act at a social event at the Dean's house, but you don't. You listen, pay attention to others, and then try to fit in without making it obvious that you are (perhaps) a bit different. More important, there's a tendency to prove you belong without making it obvious you are trying too hard. In other words, I didn't realize that for many first-generation students social support is just as critical as financial and academic support.
Thankfully, I have been blessed with friends, colleagues, and family members that have provided support across these areas in one form or another. My wife and children have been my greatest advocates and inspiration. Mentors at Elon, UNCG and George Mason provided much needed encouragement and advice on my way to a PhD in History. Colleagues at App State (as well as at UMBC, where I completed a Faculty Diversity Postdoctoral Fellowship) have been generous with their time and willingness to listen to my questions. When I tried to navigate academia on my own, I felt lost. On the other hand, when I leaned on family, friends, colleagues, and mentors, the road ahead seemed much more manageable. As an educator, however, I always like to remind my colleagues that students are some of our best teachers. They surprise us each day with their insight, varying perspectives, and their joy to learn. They are a daily reminder that we all have an obligation to each other. Each day the App State community should wok together to fuel each others' success in and out of the classroom.
What do I think my story says?
Recognize areas for growth, need, and success. Don't dwell on areas where you fail; find others whose talents and generosity can help you succeed.
Work hard in each your classes; a strong effort and impression is sometimes more needed if you are a first-generation and/or student from an underrepresented group.
You are here at Appalachian State for a reason; find that purpose and don't be afraid to plug in.
Pester your instructors and show them you care. Be open and honest with them without making excuses. You'll find that App State has a caring faculty that wants to see you succeed.